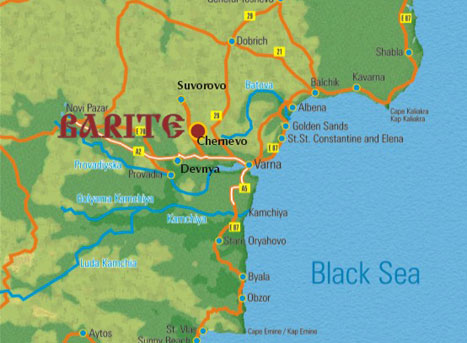 The "Barite" complex, property of "Katelievi 90" Ltd, is located 36 km northwest of Varna, in the forest of the village of Chernevo. It spreads over 18 decares at 160 m above sea level.
It comprises 5 houses, a national-style resturant built of stone and wood, an open-air museum of crafts, an ethnographic collection of lifestyle items of the population from the villagfe of Chernevo, a hall for quiet games, and a children's playground. The construction of the houses, the interior and exterior furnishing of the complex is provided by "Katelievi" 90 Ltd. from the city of Varna.
There are three pools built in the complex, stocked with carp, offering opportunities for fishing. The hunting lodge offers amenities for pleasant gatherings of smaller companies.
2018, Complex BARITE. All Rights reserved.